Michael Carlson of Carlson Studio Architects faced one of the most sensitive of challenges in Sarasota, when the Wellness Community of Southwest Florida asked his firm to design a center for patients affected by a diagnosis of cancer.
"It's not a medical facility," he said. "It's a place where people go to learn – a place of hope. It's designed for teaching and helping patients and their families cope."
Before he could begin even to think about design, the architect conducted a half-dozen eco-charrettes to review goals, functions, users and systems. He wanted the resolution for the project to be a comprehensive whole that's ultra-sensitive to the needs of its users..
"The design came out of all of that," he said. "We had to consider it all at once – it was an integrated design for a homelike setting where anyone affected by a diagnosis can come in without restrictions, meet with their doctor, learn and be counseled."
The 12,000 square foot facility – actually a pair of 6,000 square foot structures linked by a "bridge of hope" is located on a site in Lakewood Ranch overlooking a nature preserve of Florida wetlands set aside by the developer.
Its walls are composed of insulated forms – oversized Styrofoam blocks filled with concrete – with a stone base and stucco outside. Inside are counseling rooms for adult and children's therapy, a doctors' area, a clubhouse lounge and a community center that will be open to the public.
The large arch bonding the two buildings is supported by eight 150-year old pine logs harvested from the Suwannee River in Florida. The tree trunks are 30 feet tall and 18 inches wide. The roof of the arch, constructed of laminate and tongue and groove decking, is sheathed in standing seam metal.
"It's function is to shield the coffee shop, lounge, and courtyard between the two buildings," Michael said. "It's open at both ends of the courtyard, and from inside of both buildings, you can still see the arch above you."
The arch reaches 35 feet in the air, is 156 feet long, with a span between the two buildings of 40 feet. "It has such an impact when you turn the corner," he said. "You know where you're headed – it's a landmark and an orientation."
That's a deliberate effect designed by the firm that's been working on the project passionately for the past four years. "The concept is that it's all set up to help change people's lives," he said. "It's like a rainbow – an eternal symbol of hope, and a bridge from diagnosis to recovery."
The sustainable, LEED Gold-designed complex is due to open in November.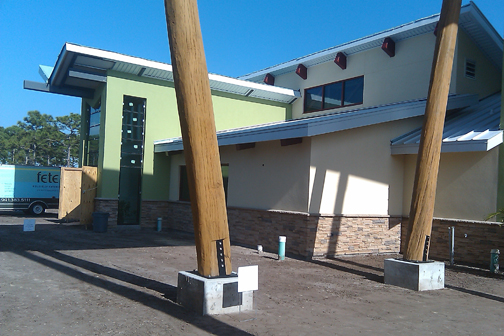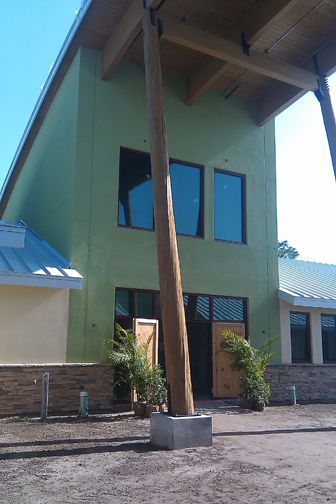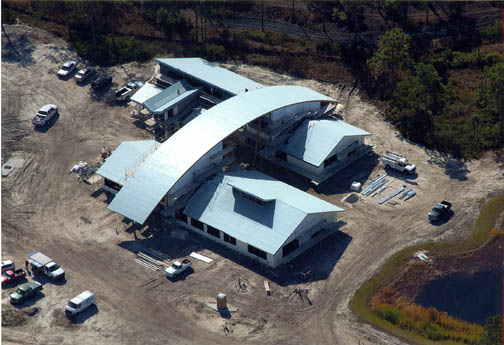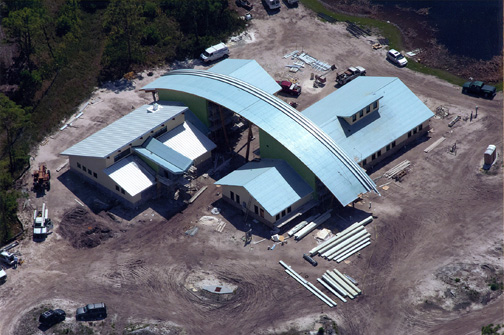 View Images:
Tags:
Carlson Studio Architects
,
featured