Robert Mills Architects of Melbourne, Australia has designed and built a crisp, cubed, iconic residence that reaches out to accommodate the natural order of its site.
That meant building the Verdant Avenue Residence around an 80-year-old pin oak tree on its urban, inner city lot.
Rob used a crisp palette of white walls with American oak joinery and slate floors for a clean, calm space from which to view the tree as it changes colors with the passing seasons.
"It's celebrated as the focal point for the main living, dining and bedroom areas," the architect said. "We believe that a precise balance of architecture, interior design and landscape will always create a truly great home."
Completed in 2009, Rob designed the house to accommodate a family of four's love of entertaining, their extensive artwork collection and their desire to connect to the natural environment outside.
Its monochromatic palette provides a gallery for large and small art pieces, while a centrally located spiral staircase links ground floor to first and second levels, for a striking sculptural element that contrasts with the interior's cubic character.
Energy-efficient features include a smart lighting system and motorized oversize exterior louvers for floor-to-ceiling windows, providing natural light and ventilation. Glass sliding doors open to a 25-meter lap pool that follows the length of the building and allows natural cooling into living areas.
"Complex detailing has created an elegant simplicity for the home," Rob said. "It doesn'tt require ostentatious dressing to be beautiful, comfortable or practical."
For more on Robert Mills Architects, go to http://www.robmills.com.au/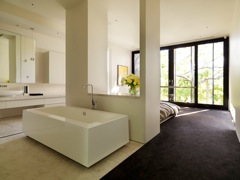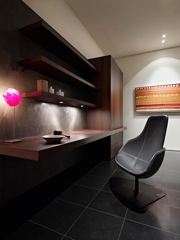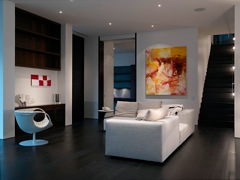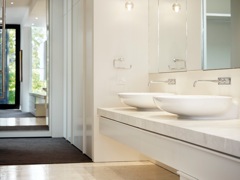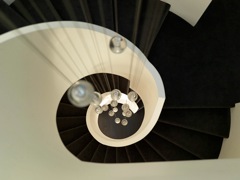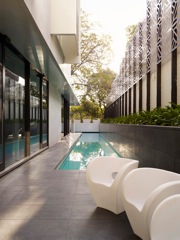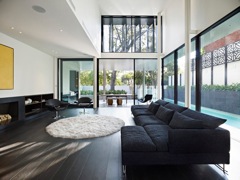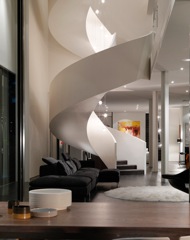 View Images:
Tags:
featured
,
Verdant