Anyone who wants to see the real war in Iraq would do well to buy a copy of Michael Kamber's new book, Photojournalists on War.
It's a vivid contradiction to many of the images widely broadcast and published during the past decade.
That's because Kamber, a veteran of 25-years in wartime photojournalism, hunkered down with 39 of his colleagues to select images of key moments in the war, some that have never been published.
The result is 300 pages of rarely seen history.
"Most American news organizations closed their bureaus and pulled staff after 2004," he says.  "It got too dangerous and expensive because of Abu Ghraib and Fallujah.  Things got nasty very quickly – it was dangerous on the streets."
Indeed.  Western journalists were seen as agents of George W. Bush.  Insurgents began to hunt and kill Iraqi, Japanese and Russian photojournalists.  "They had no compunction about tracking them down and shooting them in the head," he says.
There were issues with what he calls censorship as well – with military brass and editors in the states too.  "I think the government and the military had restrictions in place to get the photos they wanted, and editors were loathe to publish photos that would alienate readers," he says.
So in 2008, he began to talk to his colleagues in Baghdad about publishing a book that would provide a behind-the-scenes view of the war.  They wanted to create and set forth an accurate history of the war as they saw it – and what it really looked like.
They would sift through 4,000 images and distill them down to 166, and take 35,000-word interviews down to 2,500.  The emphasis was on creating a history that the American people have not yet seen.
"There's the toll on the Iraqi citizens of a war fought on their backs," he says.  "And some American casualties not published widely or at all.  Any images we thought had been censored, we made sure they got published."
He's got three target audiences in mind: Middle America, historians, and the families of the soldiers who've fought for this nation.
"I'd like for people who want to know what really happened in Iraq.  This is one of the books they should go to," he says.
With photographs as compelling as these, that's a strong likelihood.
It'll be out next week from the University of Texas Press.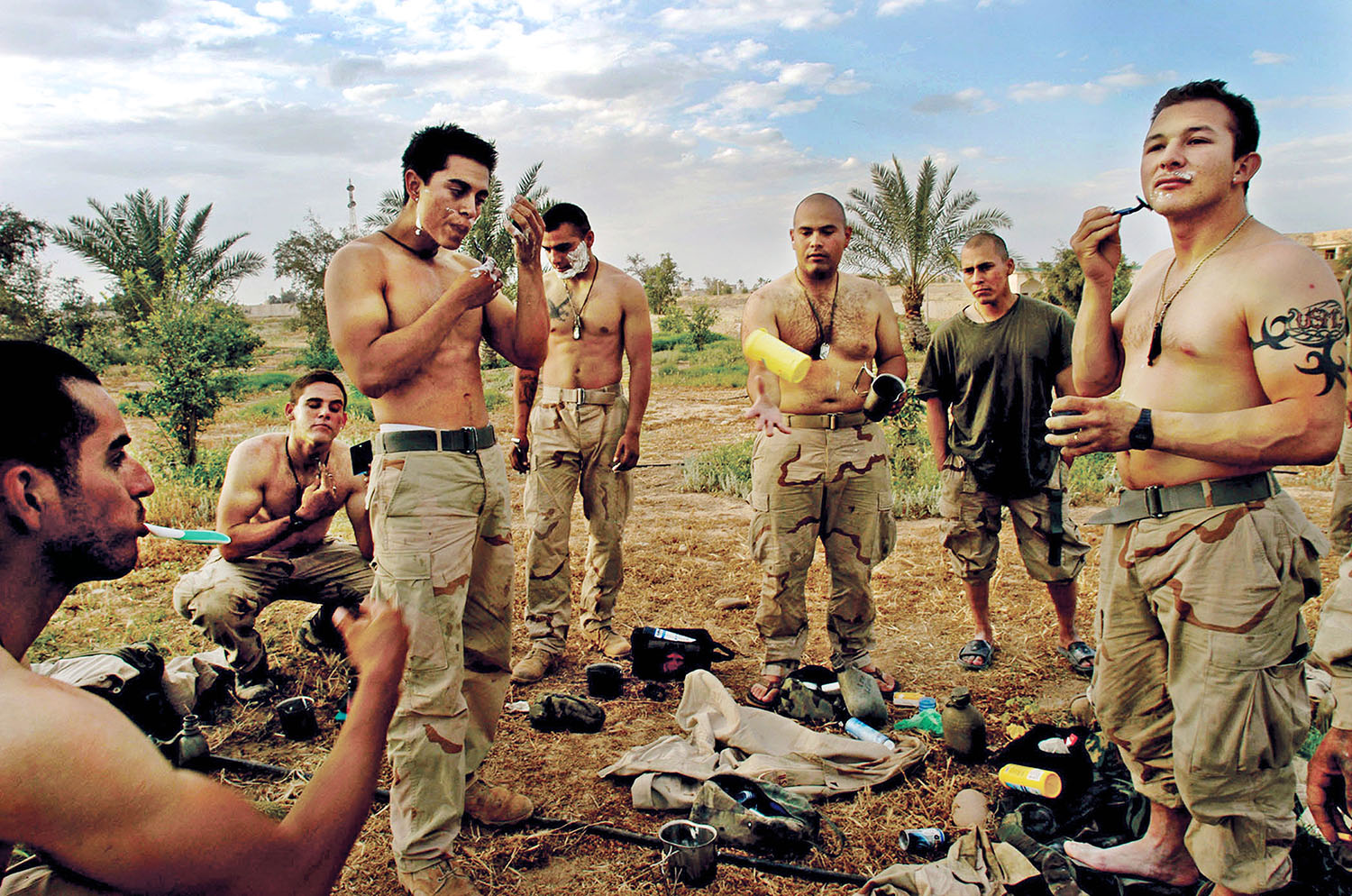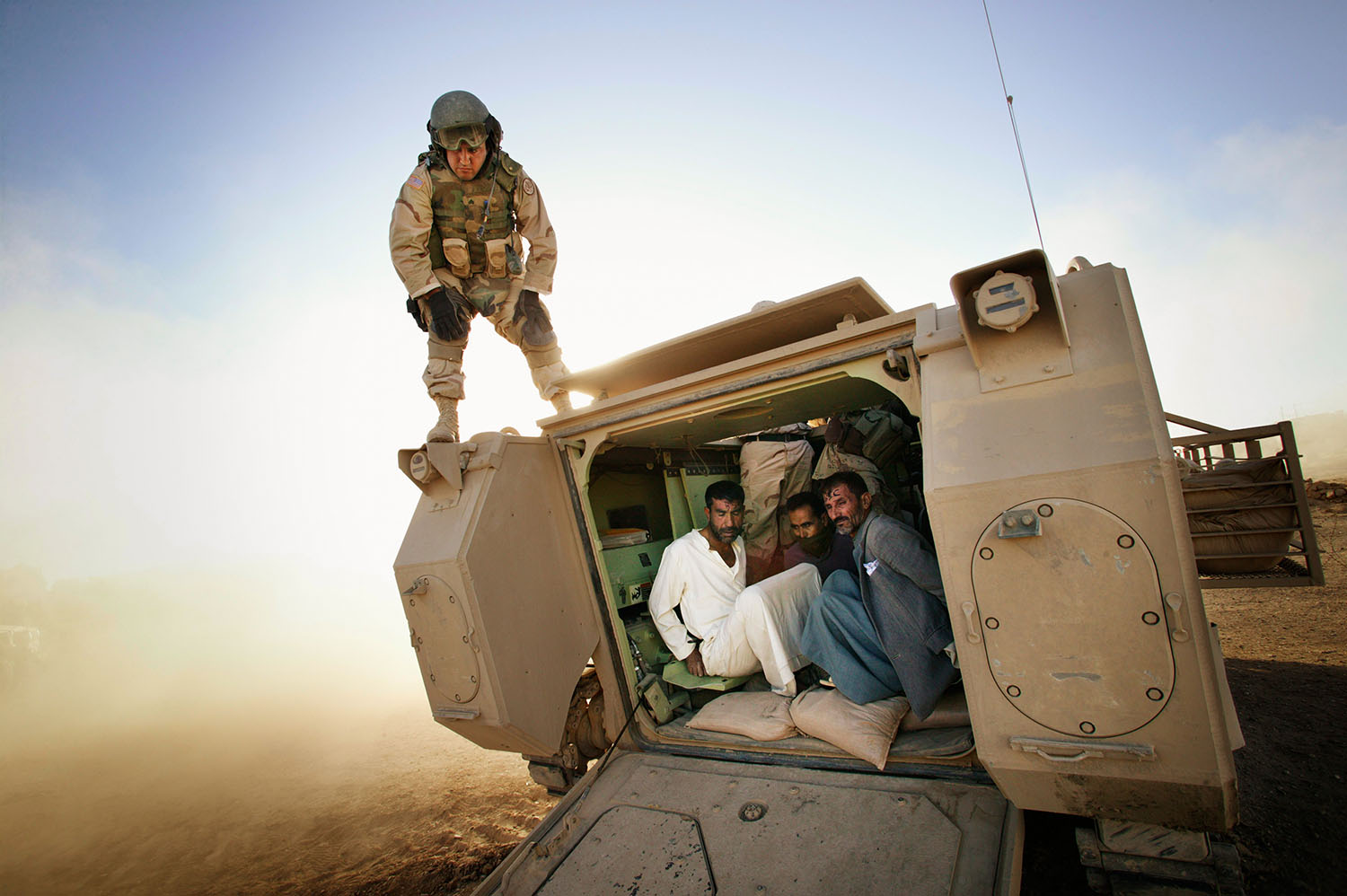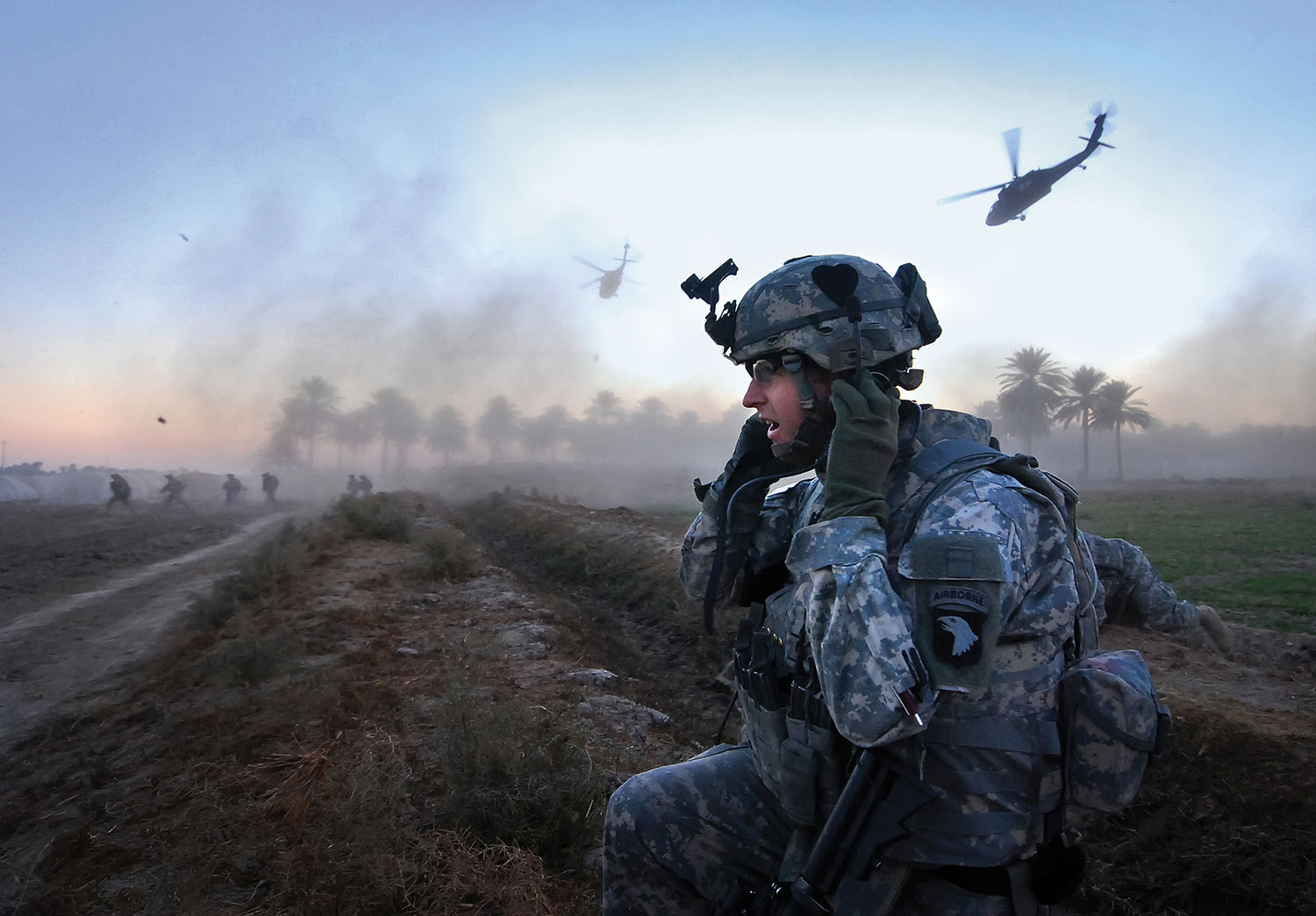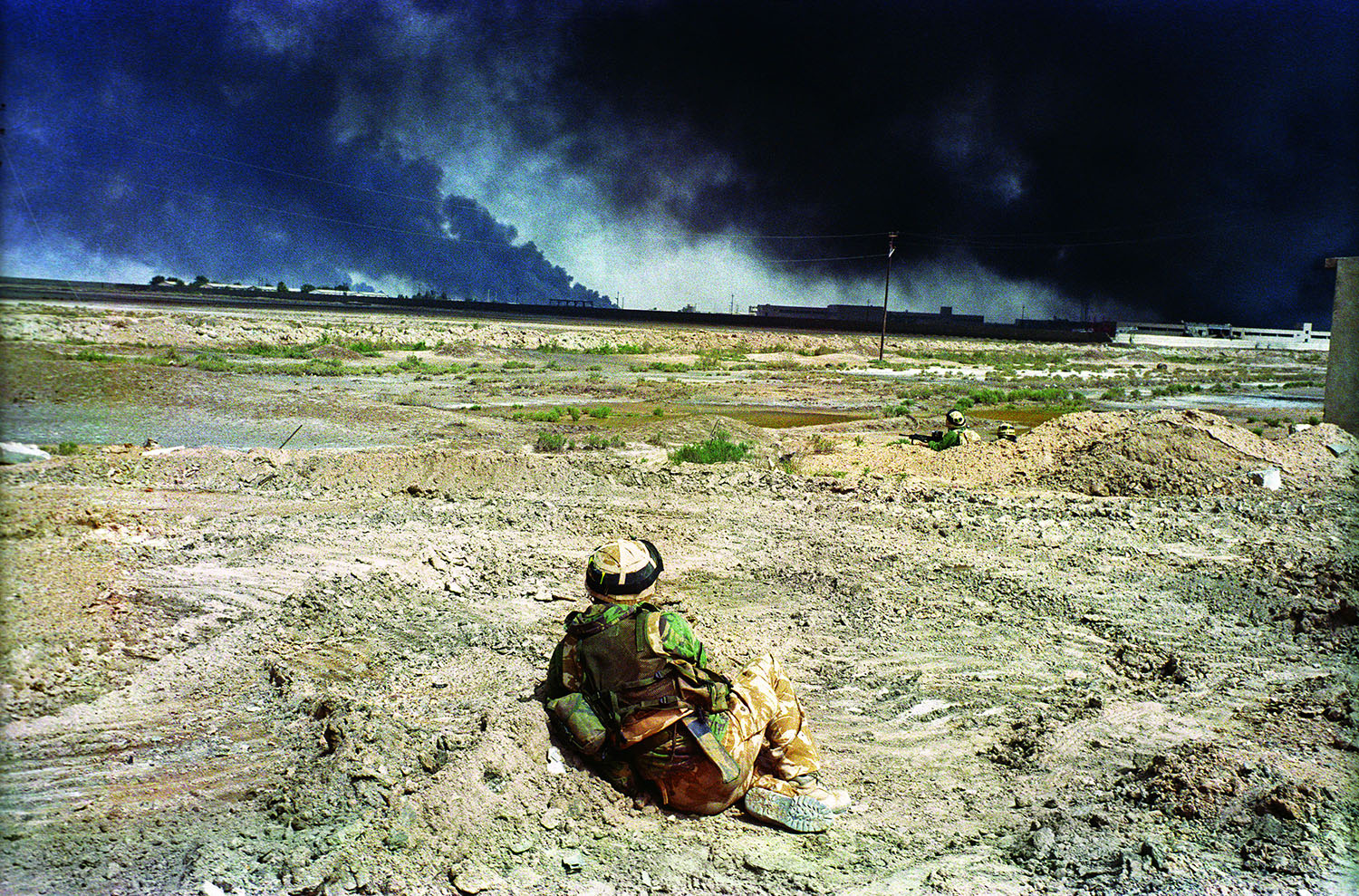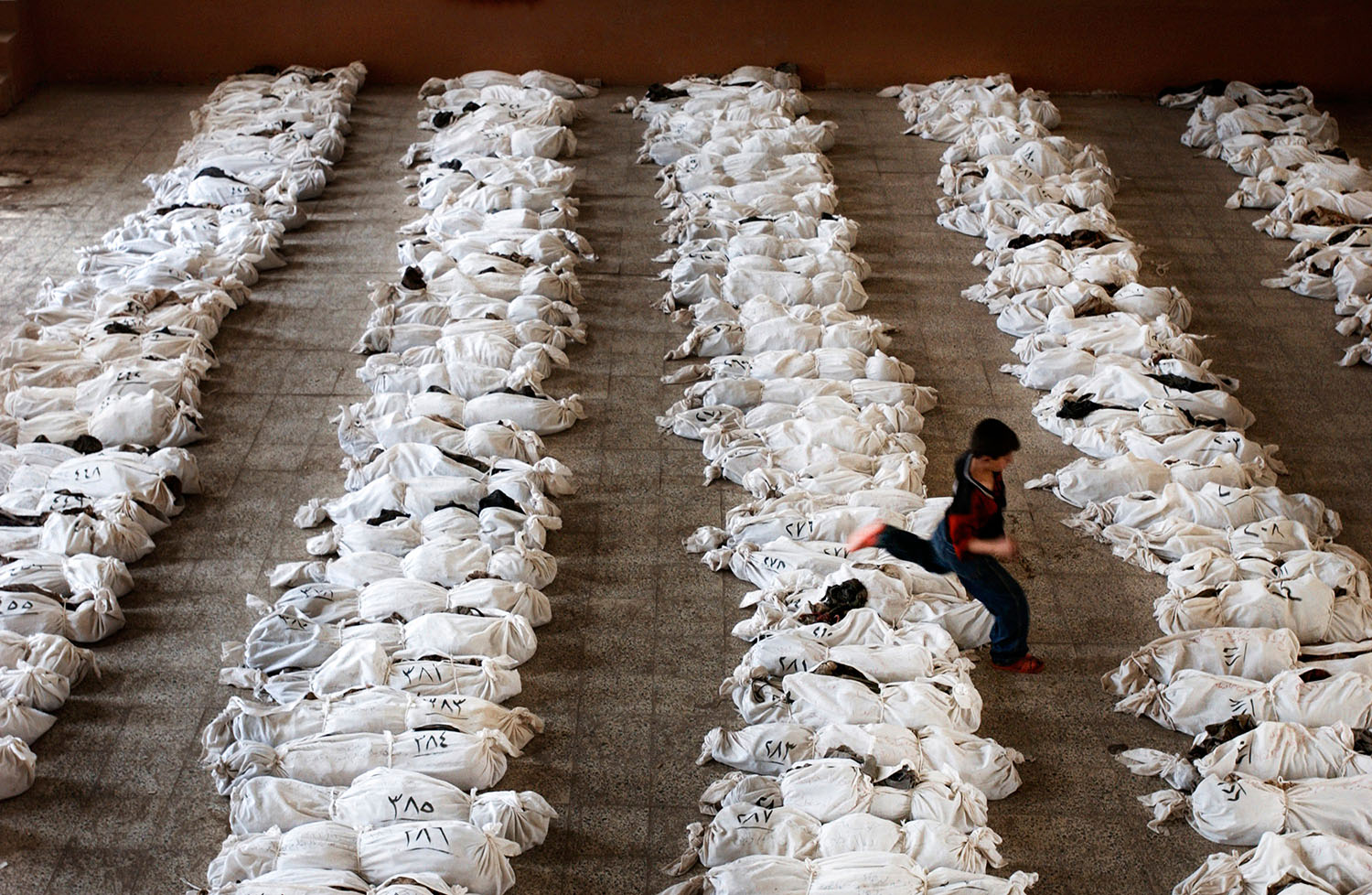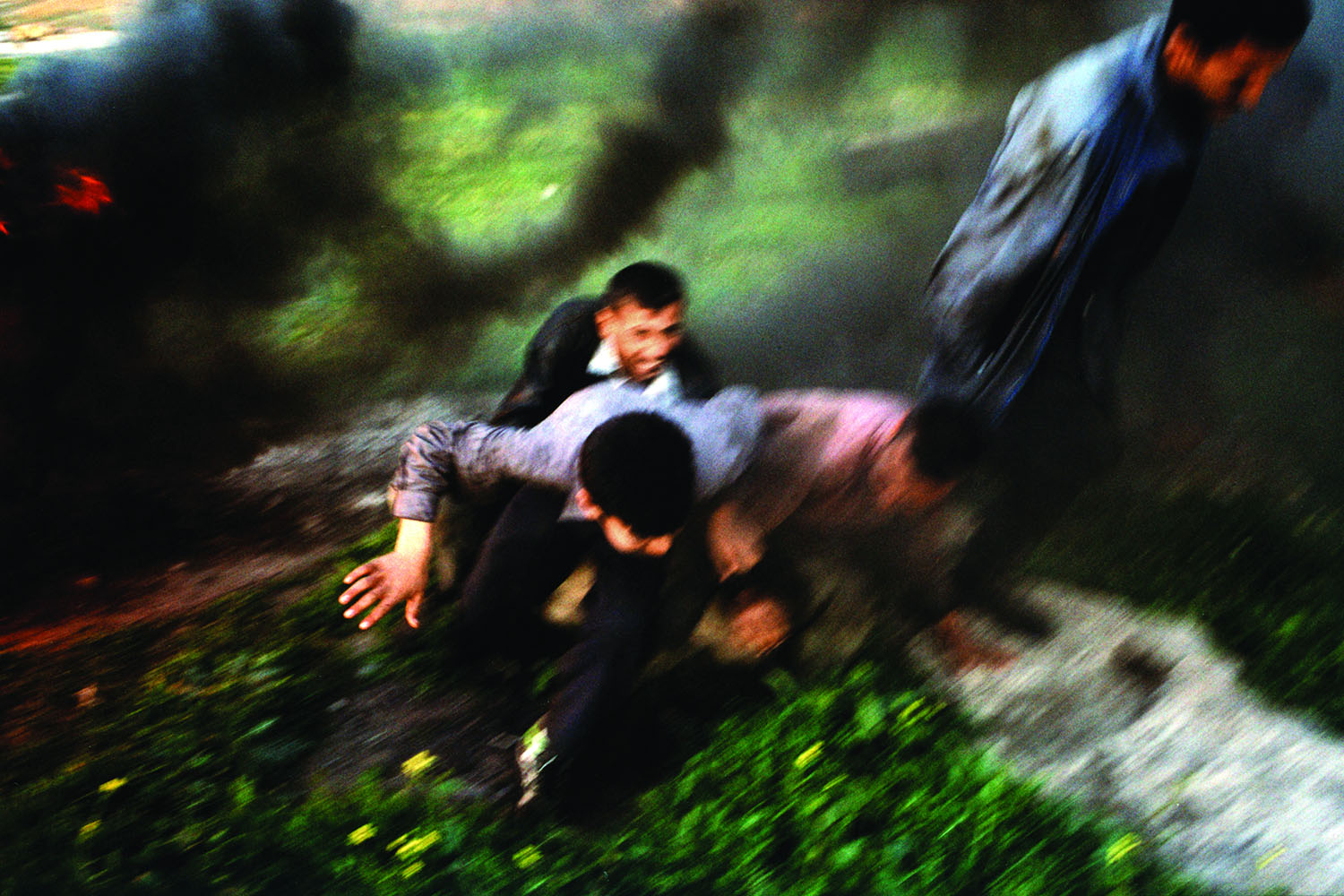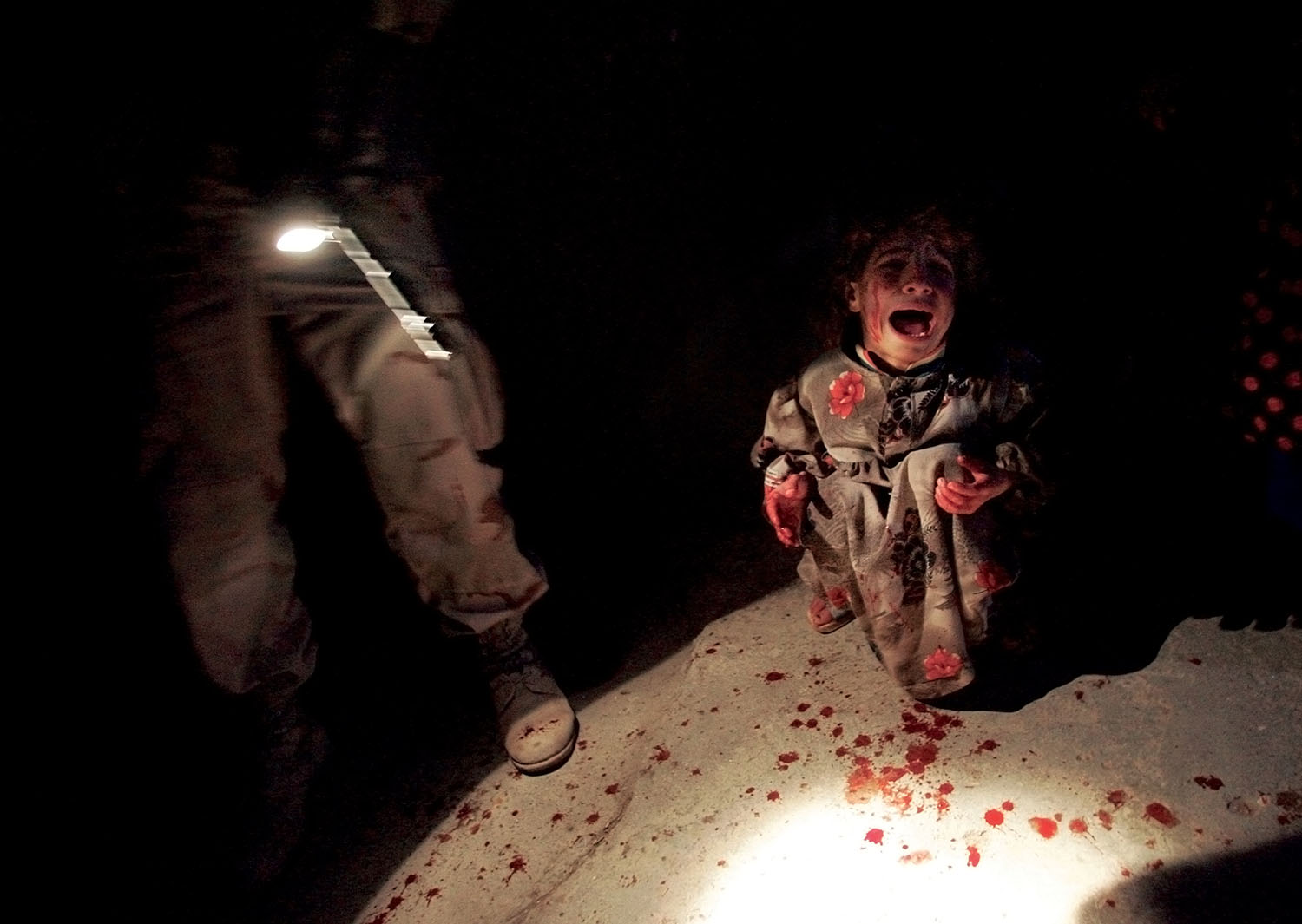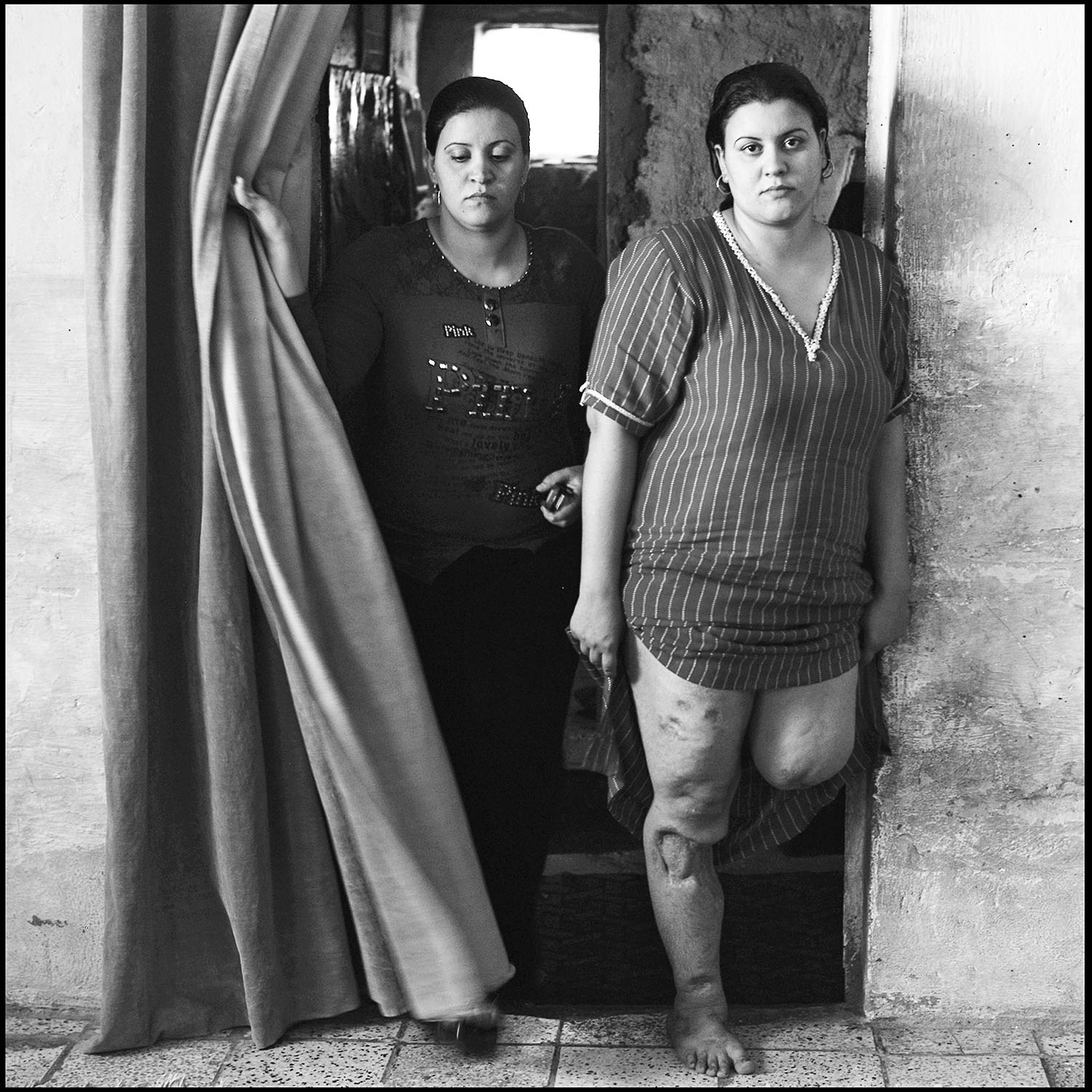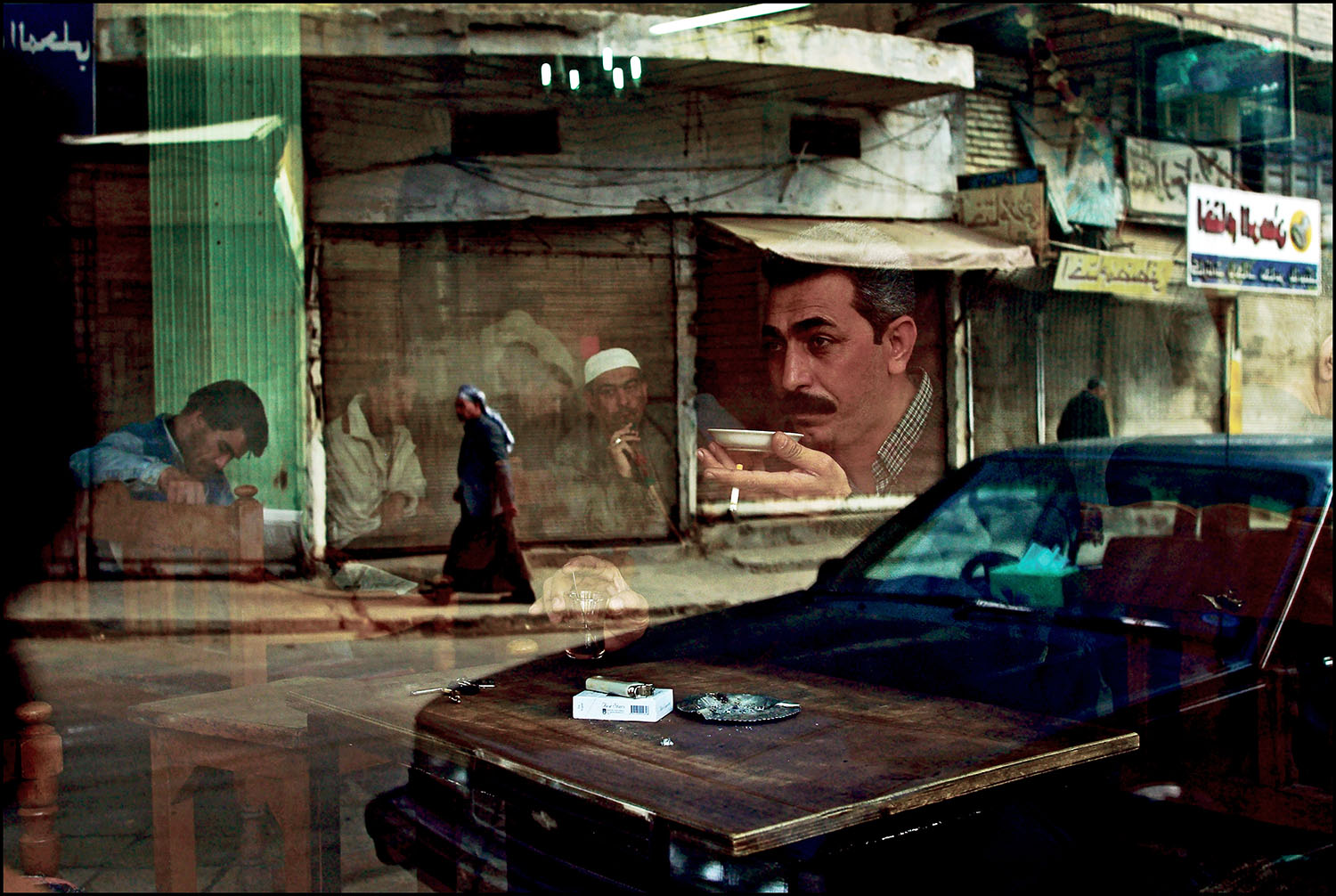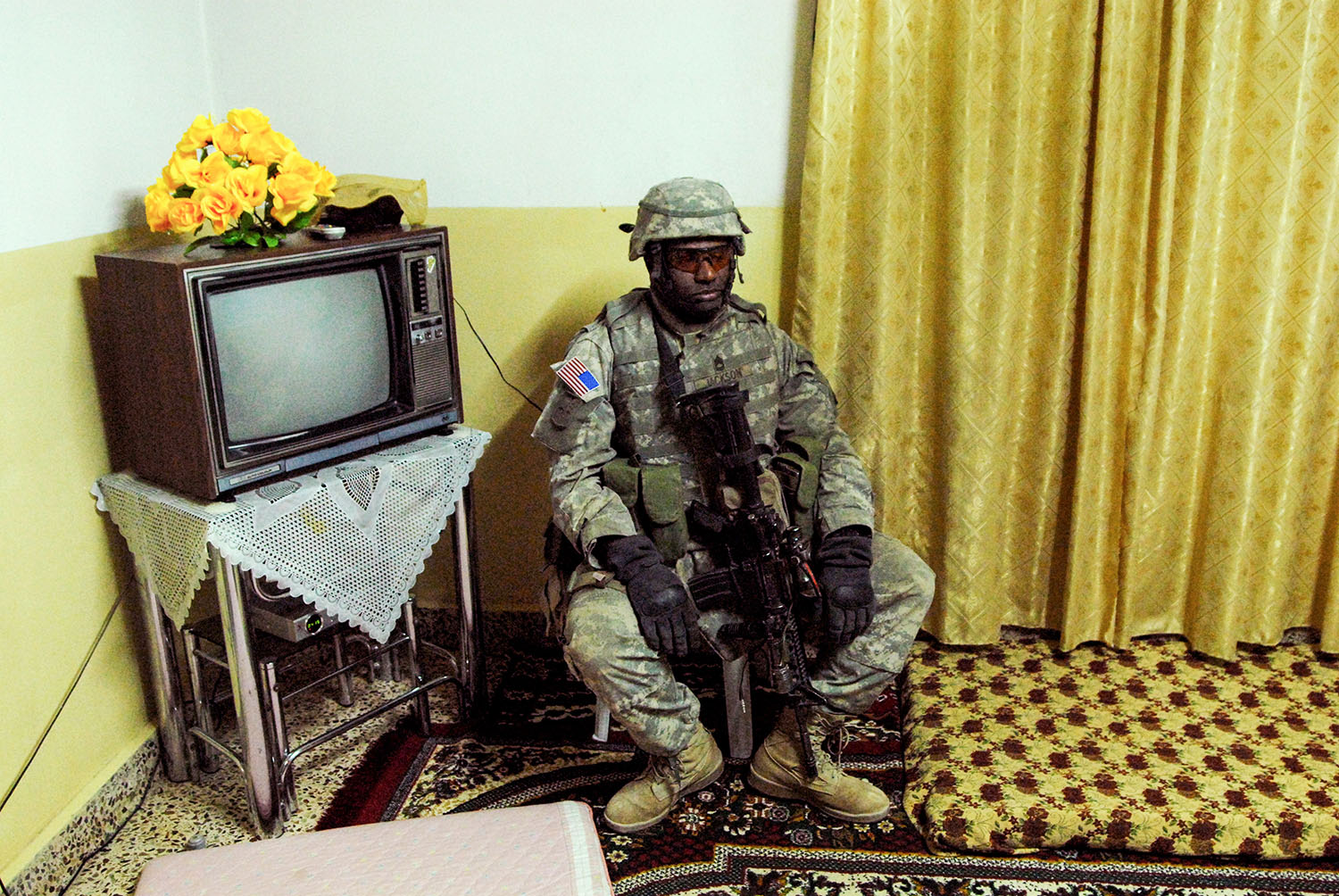 The following images/text are excerpted from Photojournalists on War: The Untold Stories from Iraq by Michael Kamber with an Introduction by Dexter Filkins. The book is being published on May 15, 2013 by University of Texas Press.
For more information, go to http://www.utexas.edu/utpress/books/kampho.html (Publisher website) or http://www.kamberphoto.com (Author website)
PRESS IMAGES PHOTO CAPTIONS
Tikrit April 15, 2003 US Marines take a break to shave in front of one of Saddam Hussein's presidential palaces the day Tikrit fell from Republican Guard rule. As the regime of Saddam Hussein fell across Iraq, soldiers and civilians pillaged his palaces across the country, revealing luxurious accommodations and major weapons caches. Photo by Lynsey Addario
Tal Afar June 2005 Suspected insurgents are detained inside a Bradley Fighting Vehicle to be transported to a detention facility during an early morning raid. Soldiers from the 3rd Armored Cavalry Regiment and Iraqi soldiers moved into Tal Afar with Bradleys, tanks, and Humvees. Helicopters provided air support as the soldiers searched houses and detained suspects. © Christoph Bangert
Ubaydi December 29, 2007 Capt. George Morris, commander of B Company, 2-502 Infantry, and his soldiers hit the ground running in the opening salvo of Operation "Patriot Strike." The soldiers detained ten suspected al-Qaeda conspirators and seized weapons and bomb-making supplies. Photo by Ben Brody
Basra April 7, 2003 A British soldier watches black smoke rising from the southern port city of Basra. The burning building on the right, a technical college, was repeatedly shelled by British forces in response to Iraqi sniper attacks. Photo by Alan Chin
Al Musayyib May 27, 2003 An Iraqi child jumps over the remains of victims found in a mass grave south of Baghdad.  The bodies had been brought to this school for identification by family members who searched for identity cards and other clues among the skeletons to identify missing family members.  The victims were killed by Saddam Hussein's government during a Shi'ite uprising here following the 1991 Gulf War.  © Marco Di Lauro/Getty Images
Kirkuk April 2004, Roadside explosion. Stanley Greene/Noor
Tal Afar January 18, 2005 Samar Hassan, five, screams moments after her parents were killed by US soldiers from the 25th Infantry Division. The troops fired on the Hassan family car when it unwittingly approached during a dusk patrol in the tense northern town. Her brother, Racan, eleven, was wounded in the shooting. Later, after being treated in the US and returning to Iraq, Racan was killed when insurgents bombed the family home in retaliation for the boy's trip to the US. Chris Hondros/Getty Images
Qubah March 24, 2007 A US soldier marks the hands of women and the backs of the necks of men with numbers for their specific neighborhoods and homes. Lt Col. Andrew Poppas of the 73rd Calvary, 82nd Airborne Division, said the numbering system allowed troops to determine if people were moving around the village of Qubah despite a lockdown following a US attack on insurgents. Yuri Kozyrev/NOOR
Sadr City February 2009 Rena was nine months pregnant, walking with her youngest sister in Sadr City one day in 2008. A US airstrike tore her leg off, killing her unborn infant and her sister. Photo by Farah Nosh
Baghdad February 12, 2003  Six weeks before the start of the war, a man sits drinking tea at the Al Zahawi cafe on Rashid Street.  Cafes are a trademark of this ancient city, gathering places where men play dominos, blackjack and socialize. Photo boy Bruno Stevens
Rawah March 2006 A weary American soldier stands guard as a residentialhome is searched. Photo by Peter van Agtmael/Magnum Photos
View Images:
Tags:
Afghanistan
,
featured
,
Iraq
,
Photojournalists on War